Jergens Kwik-Lok™ Lifting Pins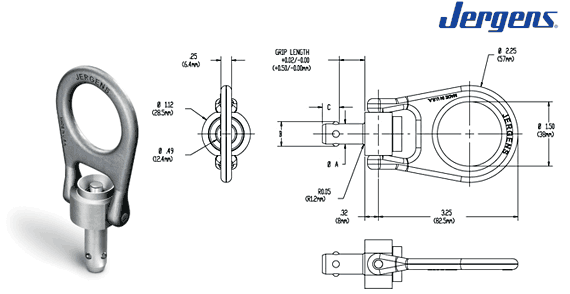 Features:
All Stainless steel construction and components.
17-4 PH stainless steel forged, heat treated lifting ring with large opening.
Lifting ring with load spreader bar
5-1 strength factor
360° swivel, 180° pivot
Resists corrosion in harsh environments
Accommodates wide range of lifting hooks/hardware
Helps prevent accidental actuation of ball release button
The ability to lift with confidence
Important: Please review all operating instructions that are included in the packaging or online before use.
Lifting Pin Specifications
Nom
Pin
Dia.
Max. Load
Rating
(lbs)*
ØA
+/-
0.005
B
+0.000/
-0.040
C
Max.
Gap (X)
(in)
Req. Hole
Diameter (in)
Min
Max
Max
Min
1/4
400
.2470
.2485
.286
.290
0.06
.2540
.2500
5/16
700
.3095
.3110
.375
.330
0.06
.3165
.3125
3/8
1000
.3720
.3735
.440
.365
0.06
.3790
.3750
1/2
1250
.4970
.4985
.594
.460
0.06
.5050
.5000
5/8
1400
.6220
.6235
.750
.580
0.06
.6300
.6250
Nom
Pin
Dia.
Max. Load
Rating
(kN)*
ØA
+/-
0.005
B
+0.000/
-0.040
C
Max.
Gap (X)
(mm)
Req. Hole
Diameter (mm)
Min
Max
Max
Min
10
4.4
9.92
9.96
12.00
9
1.5
10.1
10.0
12
5.5
11.92
11.96
14.27
10
1.5
12.1
12.0
16
6.2
15.92
15.96
19.00
14
1.5
16.1
16.0
Kwik-Lok™ Lifting Pin Part Numbers
| Dia. | 0.50 | 0.75 | 1.00 | 1.25 | 1.50 | 2.00 | 2.50 | 3.00 |
| --- | --- | --- | --- | --- | --- | --- | --- | --- |
| 1/4 | 807216 | 807217 | 807218 | 807219 | 807220 | 807222 | 807224 | 807225 |
| 5/16 | 807232 | 807233 | 807234 | 807235 | 807236 | 807238 | 807240 | 807241 |
| 3/8 | 807248 | 807249 | 807250 | 807251 | 807252 | 807254 | 807256 | 807257 |
| 1/2 | 807280 | 807281 | 807282 | 807283 | 807284 | 807286 | 807288 | 807289 |
| 5/8 | 807312 | 807313 | 807314 | 807315 | 807316 | 807318 | 807320 | 807321 |
Grip Length
Dia.
15
20
25
30
35
40
50
75
10
857237
857238
857239
857240
857299
857241
857242
857307
12
857249
857250
857251
857252
857300
857253
857254
857308
16
857261
857262
857263
857264
857301
857265
857266
857309
Jergens Kwik-Lok™ Pin Threaded Receptacles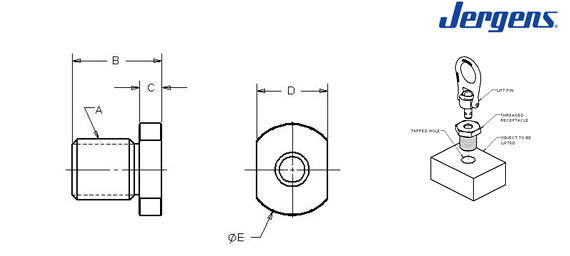 Threaded Receptacles
| | | | | | | |
| --- | --- | --- | --- | --- | --- | --- |
| 845100 | 1/2-13 | 0.930 | 0.16 | 11/16 | 807216 | 7 |
| 845101 | 3/4-10 | 1.100 | 0.28 | 1 | 807232 | 18 |
| 845102 | 3/4-10 | 1.100 | 0.28 | 1 | 807248 | 25 |
| 845103 | 1 1/8-7 | 1.625 | 0.37 | 1 1/2 | 807280 | 47 |
| 845104 | 1 1/8-7 | 1.625 | 0.37 | 1 1/2 | 807312 | 53 |
Part
Number
Thread Size
A
B
C
D
For use with:
Torque
(kg * m)
855100
M20 x 2.5
29
7
26
857237
3.6
855101
M22 x 2.5
37
9
32
857249
5
855102
M27 x 3.0
41
10
32
857261
6.9