Sling Body Protection
Protec Ballistic™ or Covermax® Sling Edge & Body Protection
Protects the entire Uni-Web™ sling, not only the edges. The Covermax® or Protec Ballistic™ material is sewn onto the sling body to protect from dirt, abrasion, rough loads, etc. These extra layers will wear out first and extend the lifetime of your sling. Covermax® is not as cutresistant as Protec Ballistic™ but less expensive. Both materials increase the sling width and thickness only marginally.
UNI-WEB® Single & Double Ply
For Sling width inch
Stock Code No. Ballistic
Stock Code No. Covermax®
1
WP-B-901-B
WP-CX-901-B
2
WP-B-902-B
WP-CX-902-B
3
WP-B-903-B
WP-CX-903-B
4
WP-B-904-B
WP-CX-904-B
6
WP-B-906-B
WP-CX-906-B
8
WP-B-908-B
WP-CX-908-B
10
WP-B-910-B
—
12
WP-B-912-B
—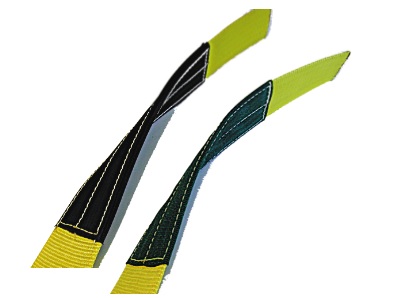 Protec Ballistic™ Complete Sling Body Armour
We can also cover the entire sling, including the eye, with Protec Ballistic™ material. It makes the sling more stiff but adds a abrasion resistance. It also allows the sling to be 'pushed' without buckling under it's own weight.
Protec Ballistic™ is sewn onto the sling body and can not be removed.
Protec Ballistic™ Complete Sling Body Armour
For Uni-Web® 1 & 2 ply sling width inch
Body Armour Product Code No.
Eye Armour Product Code No.
1
WP-SC-01
WP-SE-01
2
WP-SC-02
WP-SE-02
3
WP-SC-03
WP-SE-03
4
WP-SC-04
WP-SE-04
6
WP-SC-06
WP-SE-06
8
WP-SC-08
WP-SE-08
10
WP-SC-10
WP-SE-10
12
WP-SC-12
WP-SE-12