Mississauga Test Bed
Ontario Main Test Bed in Mississauga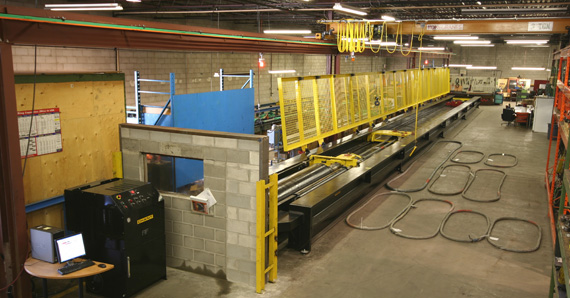 Top: The test bed is 103 ft long with a cylinder stroke of 8 ft to be able to also test high elongation synthetic slings and ropes. A newly installed 3 ton overhead crane enables us to load heavy shackles, large diameter slings, and other heavy test samples.

Left: We also have a hydraulic operated cable grip which enables us to test rope end fittings on long ropes AFTER installation; e.g. Torpedo buttons on mobile crane non-rotating ropes.

The 8 ft long main cylinder has a massive diameter of 26" and looks like the business end of a battle ship gun.

The 'small' low range 150,000 lbs cylinder can operate fully independently and also has an 8 ft stroke length.

This machine is fully calibrated to ASTM E4 and approved by Lloyd's Register of Shipping.

The test bed has a load range between 1,000 lbs to 1,200,000 lbs and operates with 3 cylinders (2 shown here) and 3 calibrated load cells.

Both cylinders are connected to a cable transducer to be able to record load extension and sling stretch.

The data aquisition software will capture the load in lbs, load time in seconds, and elongation of the test sample.

The software is configured to send test data, test certificates, and RFID identifier information via the internet to a remote server so you can access that information 24/7 from your own computer; NO special software required as we use HTML language. All you need is a password.
Approved by:

Calibrated to:

Enabled with:

Operated under:

ASTM-E4-07

Inspection System

EN ISO 9001-2000