Shackle Pin Pads
Shackle Pin Pads (Patent Pending)
The pin area of a shackle can cause synthetic slings to cut and placing synthetic slings on the pin should be avoided. Even a new shackle can have a sharp edge where the threaded pin goes through the shackle ear. If the sling is exposed to this area, it can cut and fail. The Shackle Pin Pad is the latest SLINGMAX® SOLUTION in the constant effort to ensure the ultimate rigging safety of our customers. If you must rig on the pin, protect your sling with a SLINGMAX® Pin Pad.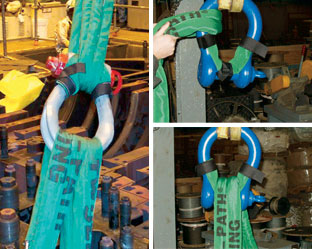 Protects sling along entire pin including ear seams.
Three connection points secure pad to shackle.
Take on and off in seconds.
Shackle Pin Pad
Part No.
State exact shackle size when ordering WLL tons
WP-SPP-S
9.5 to 13.5
WP-SPP-M
17 to 35
WP-SPP-l
55 to 85
WP-SPP-XL
>85

| | | |
| --- | --- | --- |
| Turbine rotor lift | Removal of a 500 ton bridge deck segment | Reactor coolant pump motor |