Loadlink plus, LLP 1 – 300 tonnes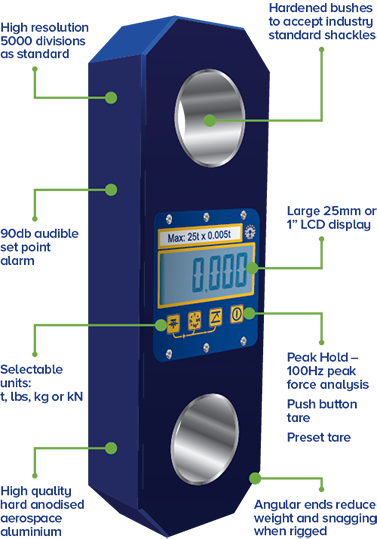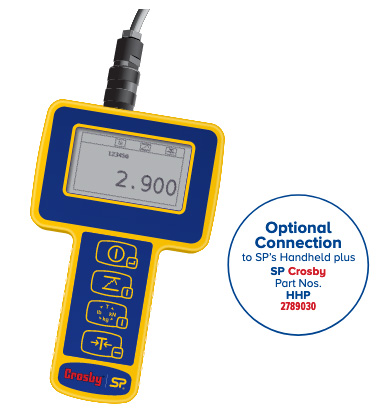 Known worldwide as the original electronic force measurement device to feature an integral display, the Loadlink plus has been in production since 1979. Over the years, the line has been expanded and it is now used on a daily basis for load monitoring and heavy lifts. These can range in capacity from 1t to 300t, and are used by a variety of industrial and commercial industries including manufacturing, transportation, agriculture, oil and gas, utilities, aerospace and clean energy.
This latest version of the well-known product has advanced features and benefits, providing solutions for today's complicated load test and force monitoring needs. The Loadlink plus features full function push button controls for tare, choice of units (lbs, kg, kN and tonnes), peak hold, preset tare, audible set-point alarm and an overload counter.
The advanced microprocessor-based electronics provide the Loadlink plus with high speed read rates, extreme resistance to industrial level noise and unprecedented stability. This high stability gives the Loadlink plus over 5,000 divisions and the highest standard resolution of any digital dynamometer on the market today. Constructed of high-grade aircraft quality aluminium, Straightpoint's advanced internal design structure allows the product to once again top the charts with an unmatched weight to strength ratio. Straightpoint's link style dynamometers are on average 30% lighter than their closest competitor with the same safety rating.
Features and benefits:
Large 25mm or 1" LCD display
High accuracy
Selectable units te, lbs, kN & kg
High resolution
100Hz Peak hold
Push button tare
Light weight
Preset tare
Overload counter
90db Audible set point alarm
RS-485 serial output
Design validated by F.E.A.
2-year warranty
DNV-GL Type Approval
Complies with ASME B30.26
Part Number
LLP1T
LLP2T5
LLP6T5
LLP12T
LLP25T
LLP35T
LLP55T
LLP75T
LLP100T
LLP150T
LLP200T
LLP250T
LLP300T
Capacity
1000kg
2.5te
6.5te
12te
25te
35te
55te
75te
100te
150te
200te
250te
300te
2200lb
5500lb
14300lb
26000lb
55000lb
77000lb
110000lb
165000lb
220000lb
330000lb
440000lb
550000lb
660000lb
Resolution
0.5kg
0.001te
0.001te
0.002te
0.005te
0.005te
0.01te
0.01te
0.05te
0.05te
0.1te
0.1te
0.1te
1lb
2lb
2lb
5lb
10lb
10lb
20lb
20lb
100lb
100lb
200lb
200lb
200lb
Units
te, lbs, kg & kN
lbs, te, kN &kg
Weight
1.5kg
1.5kg
2.4kg
3.7kg
5kg
8.6kg
13kg
16kg
34kg
46kg
82kg
82kg
118kg
3.3lb
3.3lb
5.3lb
8.2lb
11lb
19lb
28.7lb
35.3lb
75lb
101.4lb
180.8lb
180.8lb
260lb
Safety Factor
12.1
7:1
7:1
7:1
5:1
5:1
5:1
5:1
5:1
4:1
5:1
4:1
5:1
Protection
IP65
Battery Type
9v PP3
Battery Life
80 hours continuous
Display Type
6 digit 25mm LCD
6 digit 1″ LCD
Operating Temp
-10 to +50 °C
14 to 158˚F
Accuracy
±0.1% full scale
Dimension A
204
204
249
305
340
393
424
470
608
670
700
700
806
8.03
8.03
9.80
12.01
13.39
15.47
16.69
18.50
23.94
26.38
27.56
27.56
31.73
Dimension B
43
43
43
47
60
75
75
75
99
99
144
144
150
1.69
1.69
1.69
1.85
2.36
2.95
2.95
2.95
3.90
3.90
5.67
5.67
5.91
Dimension C
104
104
113
113
115
126
180
202
255
303
350
350
426
4.09
4.09
4.45
4.45
4.53
4.96
7.09
7.95
10.04
11.93
13.78
13.78
16.77
Dimension D
146
146
165
193
215
225
230
260
320
360
350
350
350
5.75
5.75
6.50
7.60
8.46
8.86
9.06
10.24
12.60
14.17
13.78
13.78
13.78
DimensionØ E
24.5
24.5
38
47.5
55
60
76
76
109
109
145
145
160
0.96
0.96
1.50
1.87
2.17
2.36
2.99
2.99
4.29
4.29
5.71
5.71
6.30
Dimension F
48
48
65
Not relevant in this capacity
1.89
1.89
2.60
Dimension G
19
19
32
0.75
0.75
1.26
Crosby Shackle
G2130
G2140
Loading Pin Ø
19
19
25
35
51
57
57
70
83
95
121
127
152
3/4″
3/4″
1″
1 3/8″
2″
2 1/4″
2 1/4″
2 3/4″
3 1/4″
3 3/4″
4 3/4″
5″
6″