Clamp On Line Tensionmeter COLT, 5 Tonnes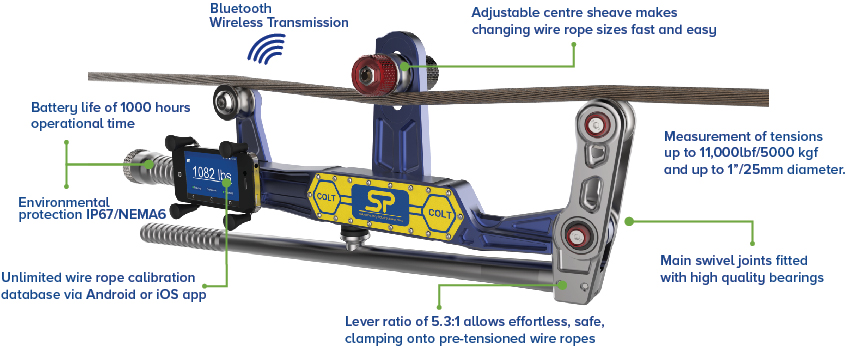 The Straightpoint COLT is a lightweight wire rope tension meter, for fast and accurate measurement of tensions up to 11,000lb or 5000 kg and up to 1" or 25mm diameter.
Manufactured using an integral, high accuracy, Bluetooth module the COLT transmits load data wirelessly to any smart device running our Android or iOS app.
Constructed from aerospace grade aluminum the COLT digital tensiometer is lightweight and easy to handle and operates on wires that are already under tension. Once in place it allows the operator to quickly check tension on cables or wire ropes set at any angle.
A built-in magnetic smart device holder allows the COLT to be used as a traditional tension meter with on board display or the smartphone can be handheld or mounted elsewhere.
Supplied in a purpose made carry case the COLT is portable and utilises standard alkaline batteries making this perfect for on-site cable tension measurement across the world.
An optional calibration verification tool (CVT) allows the operator to self-check & verify calibration accuracy in the field if required.
Features and benefits:
Unlimited wire rope calibration database via Android or iOS app.
Main swivel joints fitted with high quality bearings.
Lever ratio of 5.3:1 allows effortless, safe, clamping onto pre-tensioned wire ropes.
Wireless Bluetooth 4.1 enabling operator to stand at safe distance up to 328 feet or 100 metres.
Quick intuitive adjustable centre sheave makes changing wire rope sizes fast and easy.
No easily broken external antennae.
High waterproof resistant design IP67 or NEMA6 for all weather use
Massive battery life of 1000 hours operational time.
As the library of wire rope diameters and constructions is increased each app user will benefit when they update and receive any new data.
Cable gauge included.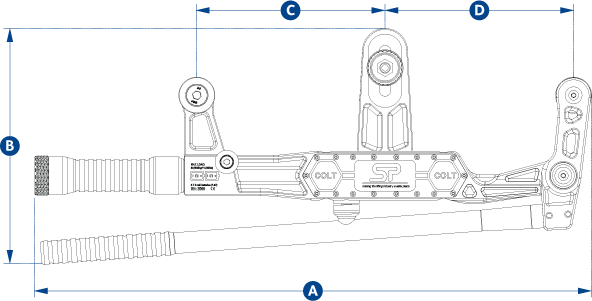 Part Number
COLT5T
Max load
5000kg
11,000lbs
Resolution
10kg
20lb
Units
kg, lbs, tonne & kN
Min wire rope ∅
∅5mm
∅3/16″
Max wire rope ∅
∅25mm
∅1″
Max line reduction
5mm with ∅10mm wire rope
7/32″ with ∅3/8″ wire rope
Wire rope database
Infinite via Android or iOS app
Weight
3.5kg
7.7lbs
Battery Type
2 x 'C' cell batteries
Battery life
1000 hours Bluetooth transmission time
Operating temperature
-25c to +70c
-13F to 158F
Protection
IP67
NEMA 6
Accuracy
±3% full scale if wire rope ∅ & construction known
Communication
Bluetooth 4.2
Supported OS version
Android 4.4 onwards & iOS 8 onwards
Dimension A
589 mm
23.2″
Dimension B
254mm
10″
Dimension C
200mm
7.9″
Dimension D
200mm
7.9″
Specifications assume COLT used on a wire rope with a fixed and flexible end