Container Monitoring Systems
---
Container Monitoring Systems CMS d+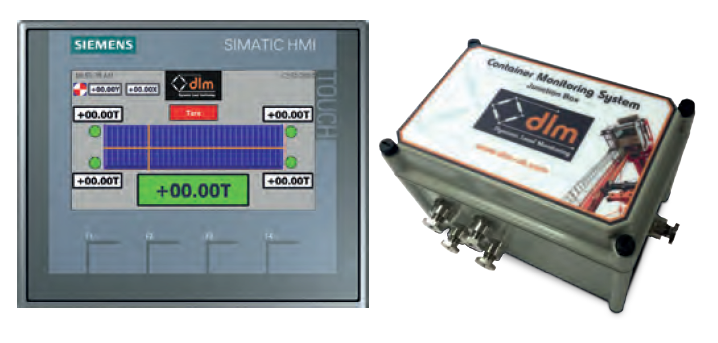 The Container Monitoring System has been developed in accordance with the IMO SOLAS VI Regulation 2 amendment, but with the intention to go beyond the requirements to future proof the investment. It will provide accurate Verified Gross Mass (VGM) of containers being weighed and can be utilized with many different types of container lifting equipment.
The Container Monitoring System has been designed to provide the VGM of each container, but also to provide many additional features for enhanced ROI, including:
Accurate Centre of Gravity calculation / Overload Monitoring / Overload Reporting / Integration to Terminal Operating System (TOS) / Usage Reporting
As the system designers DLM can provide bespoke solutions for each application which can be focused on other aspects including equipment protection to reduce maintenance costs.
Key Features:
Centre of gravity measurement
Integration to TOS
Data logging
Easily retrofit to existing port vehicles
Remote access
Customizable display and functions
Applications:
When used with the Twistlock Load Cells the Container Monitoring System can be used in any container weighing equipment without major modification or re-design.
This is because the Twistlock Load Cells are designed to integrate into the existing plant equipment by replacing the twistlocks already installed in equipment including: – Straddle Carriers / Reach Stackers / STS Cranes / RTGs / Any container lifting equipment which utilises twistlocks.
Specifications
Using Siemens PLC components the Container Monitoring System is built using components frequently used within the industry which are proven to be durable and reliable. They can also be configured and maintained onsite by existing qualified technicians. The system can be supplied to suit existing technology and cabling, or as an independent system. Features include:
Part number: 0001 – 1137
Power Requirements:
120 – 240VAC or 12-24VDC
Inputs:
Voltage / Current / ASI / CANBUS and more
Outputs:
Analogue / Digital / Profibus / Profinet / CANBUS / Wireless and more
Communication Protocols:
CANBUS / Profinet / Profibus / GSM / Wireless and more
Data logging:
Data logging of individual loads / Total loads and CoG
System Integration:
Integration with TOS systems
Remote Access:
Mobile network or wireless / Remote access can be gained via optional 3G or wireless modem depending on location
Shock and Peak Load Detection:
Stores the highest value seen on any Twistlock Load Cell
Calibration:
Using system features the system can be calibrated without the need to remove the Twistlock Load Cells
Accuracy:
<1% FRO
DLM can also provide completely bespoke systems, please enquire for further details.