Towcell ®, 25kN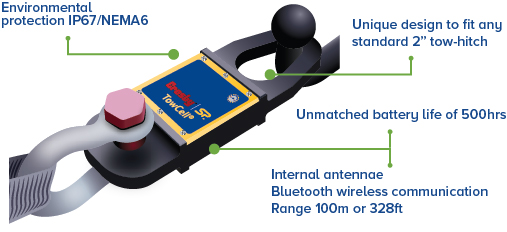 Straightpoint has developed a 25kN, wireless load cell specifically engineered for the emergency services, salvage and 4 x 4 industries. The Towcell® allows for increased safety and the avoidance of costly overloads by providing real-time monitoring of tensile towing forces during recovery, clearance and salvage efforts. The Towcell® is rugged, lightweight, compact and can be installed, with ease, onto any tow bar, whether it's a standard 52mm or 2" ball or pin assembly and is ready to use in seconds.
Modelled after Straightpoint's best-selling Radiolink plus, the Towcell® is constructed of high-quality aircraft grade aluminium. It features an advanced internal design structure, providing the product with an unrivalled strength to weight ratio. This optimal balance allows for the use of a separate internally sealed enclosure. This administers the internal electronic components with an IP67 or NEMA6 waterproof environmental protection, even with the battery cover plate missing.
Easily sourced AA alkaline batteries offer massive battery life of 500 hours, and the Towcell® utilises an unbreakable internal antennae.
Features and benefits:
Unique design to fit any standard 2" tow-hitch
Unmatched battery life of 500hrs
Waterproof IP67 or NEMA6
Internal antennae
Compact size and lightweight
Proprietary 2.4 GHz wireless communication
Design validated by F.E.A.
Bluetooth enabled and is supplied with a free HHP App for iOS and Android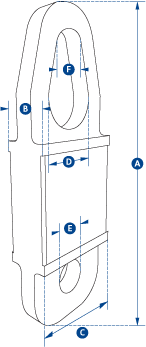 Towcell specifications

Part Number:
Towcell-Bluetooth
Capacity
25kN
Resolution
0.01kN
Weight
1.4kg
3lbs
Safety Factor
5:1
Battery Type
4 x AA alkaline batteries
Battery Life
500Hrs continuous
Operating Temp
-10°c to +50°c / 14˚ to 122˚F
Accuracy
+/- 0.1% FS
Range
100 metres / 328 feet
Data Rate
50Hz
Protection
IP67 / NEMA6
Dimension A
300mm
11.81″
Dimension B
43mm
1.70″
Dimension C
104mm
4.09″
Dimension ØD
51mm
2.00″
Dimension ØE
27mm
1.06″
Dimension ØF
31mm
1.22″