PIAB is an ISO 9001 Accredited Company
The Piab LKV-R is intended for use as an overload guard on moving ropes with dias. up to 19 mm and for loads (switch values) up to 4200 kp.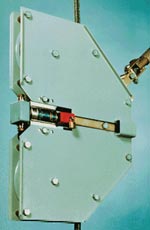 FUNCTION
The three pulleys of the overload guard deflect the rope through a slight angle. The central pulley affects the microswitch so that when the load in the rope attains the set value, the microswitch is actuated and a close/open circut is obtained.
To obtain best accuracy and to minimize the wear on continuously moving ropes and wheels, the wheels are tempered, have a large diameter and are carefully designed in all respects. The wheels are available in different groove widths to suit different rope diameters.
PROTECTION AGAINST CORROSION
The Piab LKV-R is zinc coated and yellow chromated. Plates and wheels are powder-lacquered and the wheel bearings are specially sealed and one-time lubricated. The load cell is hermetically sealed and conforms to the International Protection Specification class IP 67 according to IEC 529.
SAFETY
The overload guard does not form part of the rope system and, therefore, does not affect the construction of the lifting equipment.
The locking device prevents unauthrozied interference with the switch setting.
As the load cell is pressure tight, dust, dirt, damp and frost do not affect its function.
The Piab LKV-R can be overloaded mechanically up to 100% nominal load without affecting the accuracy of measurement.
INSTALLATION
The construction of the suspension attachment makes it possible for the LKV-R to move with line position for complete flexibility. The travelling rail tolerates a movement of ca 460 mm laterally.
The Piab LKV-R can also be easily attached when there is no free end of the rope.
Art. Nr.
Rope Dia. mm
Max. Adjustable
Switch Value (kp)
Marking on Rope Wheels
301481
9.7 – 11.4
1400
11
301482
11.5 – 13.6
2060
13
301483
13.7 – 16.3
3020
16
TECHNICAL DATA
Measurements
See Drawing Below
Repeatability
± 2% of the max. capacity
Mechanical Life Length of the Microswitch
20 x 106 cycles
International Protection
Specification Class
IP 67, according to IEC 144
Change-Over Function
Max. Contact Load
250 VAC, 500 VA 3 A
Wheels
Outer dia. 234 mm i/s groove dia.
200 mm