Large Running Line Monitor, RLM 200 Tonnes / 38 – 60 Rope Dia.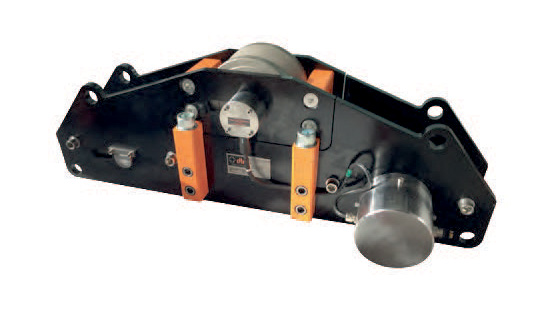 The new DLM 200t Running Line Monitor measures the tension on a rope passing through its three wheels. Typically used in Cable Laying and Winch operations to measure and record line tension its robust design make it the industry leading line tension monitor.
Designed specifically for harsh Marine type environments its modular easy to rig design allows for quick setup, installation and servicing.
Can be supplied with various diameter wheels to suit particular rope diameters.
Light weight, machined flat plate design.
Line speed and distance is measured using an integrated rotary encoder mounted onto the bottom encoder wheel, in a sealed IP68 housing.
The monitor can be supplied as a separate item for integration with customers existing PLC's or with a DLM digital display cabinet/TFT touch screen.
Standard Available Wheel Sizes
Rope Diameters (mm) 38 40 42 44 48 52 56 58 60
Features:
Huge 200t line tension capacity
Carrying points allowing easy and safe portability
Fully sealed design to IP68
Double sealed roller bearings in each sheave
Grease ways and greasing nipples on each axle for easy maintenance.
Robust design suitable for offshore industry
Integral speed and distance measurement as well as tension
Easy to rig without the need to remove sheaves from axles
Lifting and securing points
Optional mounting fixtures
Dimensional Data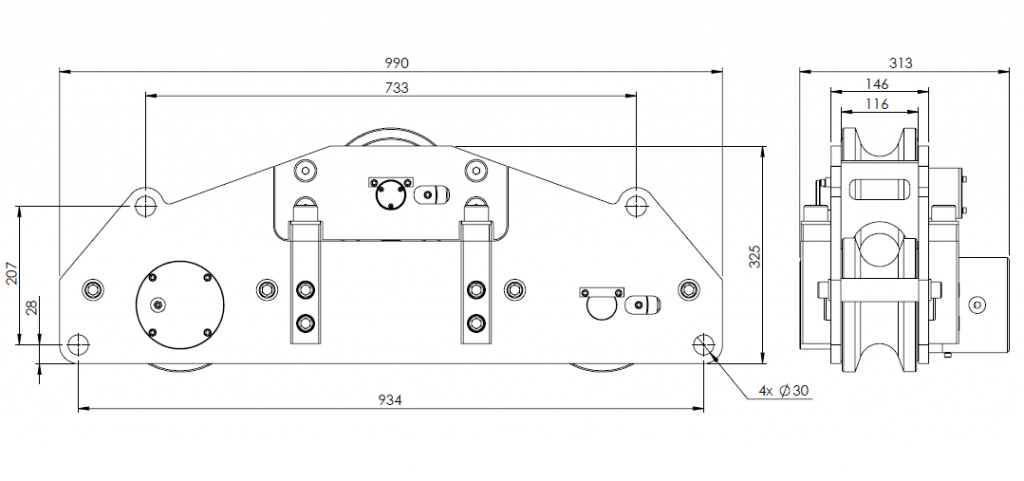 Standard Available Wheel Sizes
Rope Diameters (mm)
38
40
42
44
48
52
56
58
60
Note: others available upon request
Specifications
Part Number
0001 – 1109
Frame Construction
CNC machined side plates./ Side plates fixed together using high tensile Stainless Steel Bolts and supporting spacers/ No welded joints /Dual frame modular construction (Upper and Lower) for easy rigging and rope insertion / IP68 O Ring sealed Encoder protection casing, located to the side of Encoder wheel on lower frame / Upper and Lower Frames attached together using high tensile Stainless Steel bolts / Marine grade DP4B Bearings used on all wheels.
Frame Finish
Colour to suit customer requirements (Orange and Black Standard)/ Epoxy Powder Coat (170u thickness as standard)/ Optional Zinc plating prior to Powder coat for extra protection.
Wheel Material
EN24T alloy Steel (Hardened to 40 Rockwell upon request)
Axles and Shear Pin Material
17-4PH H1150 + 1150 Stainless Steel.
Shear Pin Load Cell Axle
Suitable for Line Tensions up to 200t./Connection through MCBH-3-FS and MCIL-3-MP Subsea Connectors and IP68 gland to sealed
Encoder casing/ O Ring Sealed.
Amplifier
3 Wire 4-20mA current source/ 11-24VDC Powered./Mounted inside Shear Pin Load Cell head signal and power connection through MCBH-8-MP/ Bulkhead Connector shared with Encoder output/input, mounted on Encoder protective casing.
Encoder
Mounted inside O Ring sealed Encoder casing bolted to frame./ Push-Pull Quadrature output./ 11-24VDC Powered /Signal and Power Connection through MCBH-8-MP Bulkhead Connector shared with Amplifier output/input / Located in bottom Encoder casing mounted to wheel axle by Encoder Coupling.
RLM Mounting
4 machined eyes located on each side plate for easy rigging to spooling gear or for use as lifting points/ Machined stainless Steel spacers double as lifting/carrying points
Optional Extras
Fleeting Gear/ Mounting posts/ Mounting brackets