Python® Ultra CP
Super high strength crane and assembly rope (HiPac®, PlastGuard®, DoPar®)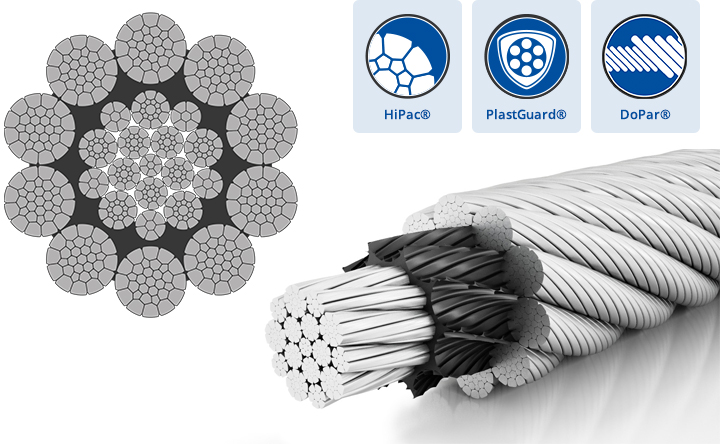 10-strand fatigue resistant construction
DoPar® – Double Parallel Inner- outer strands with
no internal cross-overs
HiPac® design to increase breaking strength
Shaped outer wires for optimum sheave contact
PlastGuard® avoids premature inner wire breaks
Permanent lubricated core
Main Applications
Super high strength wire rope for high capacity overhead cranes including safety critical lifts and high risk applications.
Because of the HiPac® manufacturing technique, the availability of very specialized rope making machines and an innovative method to pastic coat the core this rope can be made up to 2-7/8" (76 mm) in diameter. Ideal for all "super cranes" Note that Python® ULTRA with ForcePac compaction can only be made up to a diameter of 1-1/4" (32 mm) but about 8-10% stronger. Well, you can't have it all!
Rope Characteristics
Python®-Ultra CD is a super high strength rope. This rope has been developed so it can be used at fleet angles up to 4˚. The DoPar® construction in combination with a plastic coated core to lock-in lubricant ensures best bending performance.
HiPac® strand compaction results in an extreme smooth outer rope surface and the removal of most of the constructional stretch. This is an important feature if you require a low stretch rope for cables assemblies or applications where initial rope stretch must be as low as possible. Ultra CD provides a strength increase of up approximately 42-45% over regular 6-strand constructions. Refer to the conservatively calculated strength tables.
Python®-Ultra requires corresponding drum grooving directions; e.g. use a right hand lay rope if the drum is left hand grooved.
| 6-strand | | 8-strand |
| --- | --- | --- |
| | | |
Standard
EN 10264, 12385 where applicable
Python® Ultra CD is NOT rotation resistant or non-rotating.
Breaking Strengths
Note: The maximum CAPACITY, WORKING LOAD LIMIT (WLL), or LINE PULL of the rope usually is 1/5 of the below stated values. For specific information consult the standards applicable to your rope application.
Python® – Ultra
Minimum Strength tons of 2,000 lbs
Rope dia. inch
EIPS
EEIPS
Weight per foot lbs
1
67.2
74.1
2.14
1-1/8
82.2
90.6
2.61
1-1/4
104.0
114.0
3.30
1-3/8
124.0
137.0
3.95
1-1/2
146.0
161.0
4.64
1-5/8
171.0
188.0
5.43
1-3/4
198.0
219.0
6.26
1-7/8
228.0
252.0
7.26
2
263.0
290.0
8.34
2-1/8
295.0
325.0
9.38
2-1/4
328.0
362.0
10.40
2-3/8
363.0
400.0
11.60
2-1/2
406.0
448.0
12.90
2-5/8
454.0
500.0
14.40
2-3/4
495.0
545.0
15.70
2-7/8
537.0
592.0
17.10
Python® – Ultra
Minimum Strength in kN
Rope dia. mm
1960 N/mm²
2160 N/mm²
Weight per meter kg
26
614
676
3.27
27
651
717
3.46
28
699
771
3.72
29
751
828
4.00
30
812
895
4.32
31
866
955
4.61
32
922
1,016
4.91
33
982
1,082
5.23
34
1,042
1,149
5.55
35
1,104
1,216
5.87
36
1,163
1,282
6.19
38
1,296
1,429
6.90
40
1,436
1,583
7.64
42
1,594
1,757
8.48
44
1,733
1,910
9.22
46
1,899
2,092
10.10
48
2,077
2,289
11.10
50
2,253
2,483
12.00
52
2,433
2,681
12.90
54
2,622
2,890
14.00
56
2,810
3,096
15.00
58
3,009
3,316
16.00
60
3,228
3,557
17.20
62
3,445
3,797
18.30
64
3,680
4,056
19.60
66
3,931
4,332
20.90
68
4,160
4,585
22.10
70
4,403
4,853
23.40
72
4,648
5,122
24.70
74
4,900
5,400
26.10
76
5,195
5,725
27.60
| | |
| --- | --- |
| | |