Compac® 6
High-strength 6-strand Crane Rope (HiPac™ Compacted)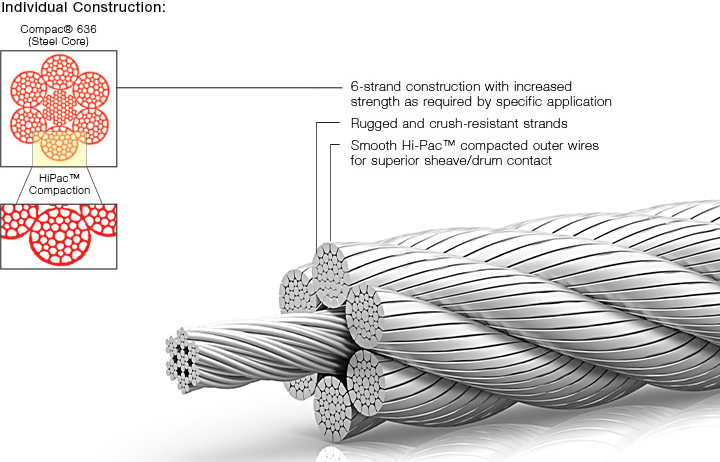 Main Applications
Compac® 6 is recommended for heavy use or where conditions are abusive and/or abrasive. Overhead cranes, crawler cranes, lattice boom cranes, truck crane rope, multipart hoist lines where rotation resistant ropes are NOT required. Because of it's very good crush resistance 6-strand COMPAC® is particularly recommended for use on multi-layer drum application.
Rope Characteristics
Hi-Pac™ strand surface minimizes inter strand- and inter layer nicking that takes place in standard 6-strand ropes. The COMPAC® design provides excellent abrasion and crush resistance. Abrasion resistance is enhanced because of the increased wire and strand surfaces contacting sheaves and drums. When used in multilayer drum winding operations COMPAC® greatly reduces damage at the crossover points from one rope wrap to the next.
Standard
ASTM 1023/A 1023M, Table 29
Compac® 6 type ropes are NOT rotation resistant or non-rotating.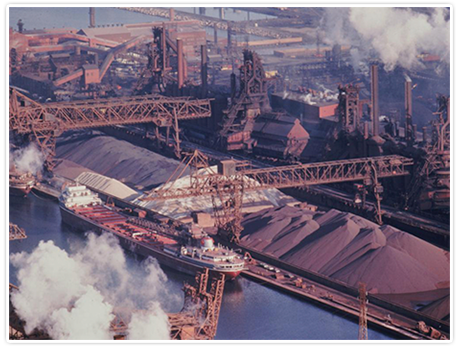 ---
Breaking Strengths
Note: The maximum CAPACITY, WORKING LOAD LIMIT (WLL), or LINE PULL of the rope usually is 1/5 of the below stated values. For specific information consult the standards applicable to your rope application.
Compac® 636
Rope dia. inch
Lay direction
Nominal Strength tons of 2,000 lbs – EIPS
Weight per foot lbs.
1/2
right
15.1
0.54
9/16
right
18.3
0.68
5/8
right
22.7
0.84
3/4
right
32.4
1.21
7/8
right
43.8
1.65
1
right
56.9
2.15
1-1/8
right
71.5
2.73
1-1/4
right
87.9
3.37
1-3/8
right
106.0
4.07
1-1/2
right
125.0
4.85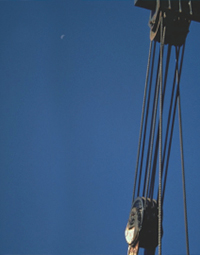 Compac® 636 Compacted HiPac™ Wire Rope with Steel Core
Construction:
6×36 Warrington-Seale, bright, EIPS, RRL
Recommended for heavy use or where conditions require a crush resistant rope for multilayer drums.
Used as main hoist and boom hoist rope on mobile, tower and crawler cranes, and as main and auxiliary load line on overhead cranes.