Class 6×19 IWRC and Fiber Core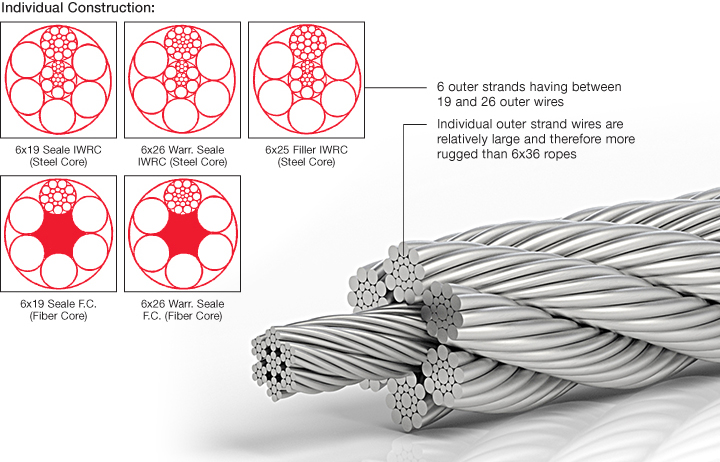 Main Applications
Rope for UNI-LOC® Wire Rope Slings.
Applications which demand a more crush- & abrasion resistant wire rope. Winch lines, railings, suspension cables, boom pendants, boom hoist ropes, anchor lines. Also used as hoisting rope on many old design overhead cranes.
Rope Characteristics
Wear & crush resistant, but not very flexible. Less fatigue resistant then
6x36 rope.
Standard
ASTM A1023/A1023M-19, Table 10
CSA G-4-15
EN 12385
Rope Diameter / Rope Construction these ropes are typically supplied in
5/16 – 3/8" = 6 x 19 Seale
7/16 – 3/4" = 6 x 26 WS
7/8" & up = 6 x 25 Filler
Class 6x19 wire rope is NOT rotation or spin resistant.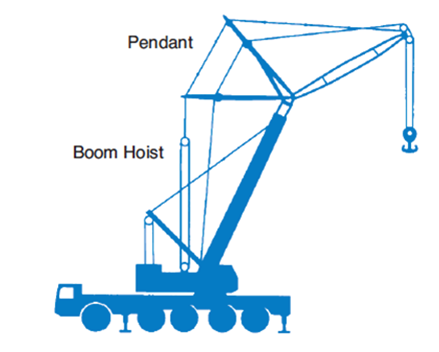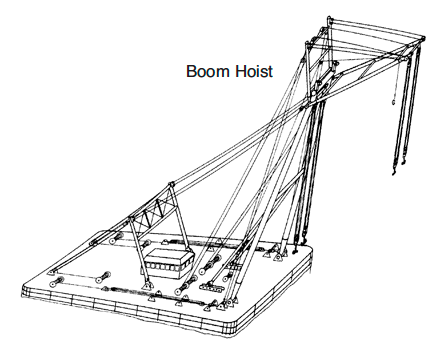 ---
Breaking Strengths
Note: The maximum CAPACITY, WORKING LOAD LIMIT (WLL), or LINE PULL of the rope usually is 1/5 of the below stated values. For specific information consult the standards applicable to your rope application.
Class 6x19 IWRC (Steel Core)
Rope dia.
inch
Nominal Strength
tons of 2,000 lbs – EIPS
Weight
per foot lbs.
5/16
5.2
0.18
3/8
7.5
0.25
7/16
10.2
0.34
1/2
13.3
0.44
9/16
16.8
0.56
5/8
20.6
0.69
3/4
29.4
0.99
7/8
39.8
1.35
1
51.7
1.76
1-1/8
65.0
2.23
1-1/4
79.9
2.75
1-3/8
96.0
3.50
1-1/2
114.0
3.96
Class 6x19 FC (Fiber Core)
Rope dia.
inch
Nominal Strength
tons of 2,000 lbs – EIPS
Weight
per foot lbs.
1/4
3.0
0.10
5/16
4.7
0.16
3/8
6.7
0.23
7/16
9.1
0.31
1/2
11.8
0.40
9/16
14.8
0.51
5/8
18.4
0.63
3/4
26.2
0.90
7/8
35.4
1.23
1
45.9
1.60