Class 6×36 IWRC and Fiber Core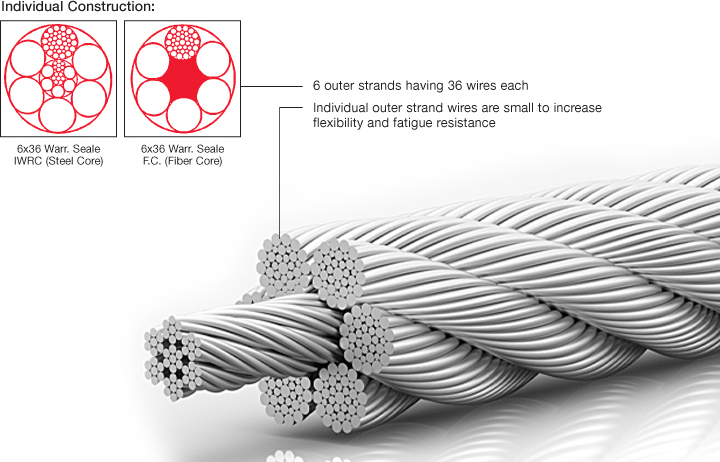 Main Applications
Original equipment rope for many North American and European overhead crane types. Used as main and auxiliary hoist line on steel mill cranes. Steel Core construction is also used for larger diameter UNI-LOC® Wire Rope Slings. One of the most versatile low strength/low cost rope constructions available.
Rope Characteristics
Very flexible wire rope with good fatigue resistance, but not as crush resistant as 6x19. In relationship to strand diameter this rope has relatively large outer wires to enhance abrasion resistance.
Fiber Core (F.C.) construction is much more elastic under load (stretch); as such it has a greater energy absorption capability but is even less crush resistant than its cousin with Steel Core (IWRC).
Standard
ASTM A1023/A1023M-19, Table 12,13
CSA G-4-15
EN 12385
ISO 2408
Class 6x36 wire rope is NOT rotation or spin resistant.

---
Breaking Strengths
Note: The maximum CAPACITY, WORKING LOAD LIMIT (WLL), or LINE PULL of the rope usually is 1/5 of the below stated values. For specific information consult the standards applicable to your rope application.
Class 6 x 36 IWRC (Steel Core)
Rope dia.
inch
Nominal Strength
tons of 2,000 lbs – EIPS
Weight
per foot lbs.
1/4
3.4
0.12
5/16
5.2
0.18
3/8
7.5
0.25
7/16
10.2
0.34
1/2
13.3
0.44
9/16
16.8
0.56
5/8
20.6
0.69
3/4
29.4
0.99
7/8
39.8
1.35
1
51.7
1.76
1-1/8
65.0
2.23
1-1/4
79.9
2.75
1-3/8
96.0
3.33
1-1/2
114.0
3.96
1-3/4
153.0
5.67
2
198.0
7.39
2-1/4
247.0
9.36
2-1/2
302.0
11.16
Metric 6 x 36 IWRC (Steel Core)
Rope dia.
mm
Minimum Breaking
Strength kN
Weight
per meter kg
7
34.2
0.20
8
44.7
0.27
9
56.6
0.34
10
69.8
0.42
11
84.5
0.51
12
109.7
0.60
13
118.0
0.71
14
137.0
0.82
15
157.0
0.97
16
179.0
1.07
18
226.0
1.35
19
252.0
1.51
20
279.0
1.67
22
338.0
2.02
24
402.0
2.41
26
472.0
2.83
28
548.0
3.28
Class 6 x 36 FC (Fiber Core)
Rope dia.
inch
Nominal Strength
tons of 2,000 lbs – EIPS
Weight
per foot lbs.
1/4
3.0
0.10
5/16
4.7
0.16
3/8
6.7
0.23
7/16
9.1
0.31
1/2
11.8
0.40
9/16
14.8
0.51
5/8
18.4
0.63
3/4
26.2
0.90
7/8
35.4
1.23
1
45.9
1.60
Metric 6 x 36 FC (Fiber Core)
Rope dia.
mm
Minimum Breaking
Strength kN
Weight
per meter kg
6.5
27.3
0.16
11
78.2
0.46
13
109.3
0.64
14
126.0
0.74
16
165.0
0.97
18
209.0
1.23
19
233.0
1.37
20
258.0
1.52