Use of Chain Slings


Lifting Practices Checklist:
FIND out load weight before lifting.
LOWER working load limit if there may be severe impact.
BALANCE the load to avoid overstress on one sling leg or the load slipping free.
PAD sharp corner to prevent bending links.
REPLACE broken safety latches.
REDUCE the chain capacity when using chain in temperatures above 425°C (800°F).
KEEP hands and fingers from between load and chain.
STORE chain slings on racks in designated areas.
DO NOT JERK the load when lifting or lowering the sling. This increases the actual stress on the sling.
DO NOT DRAG the sling.
DO NOT SPLICE the sling by inserting a bolt between two links.
DO NOT TRY TO REPAIR the sling unless you are properly trained. Use only original spare parts.
DO NOT SHORTEN the sling with knots.
DO NOT FORCE a hook over a link.
DO NOT USE homemade connections. Use only attachments designed for the chain.
DO NOT
Loss of Strength over Corners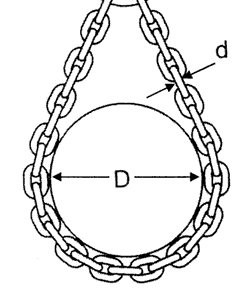 Percentage of basket sling rated load, based on D/d ratio
D/d
% Rated Load
Less than 2
Not recommended
2
60
3
70
4
80
5
90
6 and above
100