Sling Tagging System
Sling tagging and identification has long been a problem within the industry. Either they were made from steel plate with hard to read stamped in numbers, or they were skimpy and small, or stamped in a way that users had a hard time reading the tag to begin with. Some companies started to attach a vinyl cloth tag with black marker pen hand written information onto chain slings. You can imagine how long such tags lasted in service.
Unirope went through the expense to develop a sling tagging system which meets the following criteria:
Easy to read information
Ratings with all applicable lifting angles according to ASME B30.9
Icons to display the applicable sling hitches
Capacities in either LBS or KGS, or both on larger tags
Descriptive product codes
Length in ft and inches
Assembly- or Inspection and Proof Test Date
Inclusion of serial- and

FIELD

ID

numbers
Fully customizable text and graphics
The tags are made from super sturdy 1/4″ thick aluminum plate with a pull-off strength exceeding 2,000 lbs. The information is printed on a weather- and UV resistant outdoor quality label which is covered with a clear scratch and abrasion resistant cover.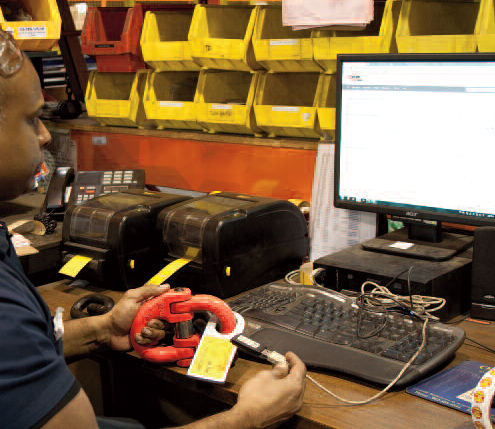 All chain tags for slings 5/8" and up are fitted with an RFID tag which for 1/2" and smaller are optional.
How do I get access to the database?
Access is made available through a website and a series of usernames and passwords. All you need is a computer with internet access. The database is NOT located at Unirope but at a secure, professionally managed information storage facility.
How do I read the
FIELD

ID

tag?

With 7/32" to 1/2" slings you enter one of any search criteria like sling ID number, your or our serial number, last inspection ID number, product type, etc. Scanning of a lifting chain equipped with an RFID tag connects you to the same database as with the smaller chain tags. Of course, if you do not have an RFID scanner you can simply manually enter serial numbers, FIELDID numbers, etc.

This system allows us and our customers to:
Perform inspections and print inspection certificates on demand
Allows our customers to view and print their inspection certificates through their web browser
Have documents instantly available such as safety-inspection, and product information
Record rigging product repair and re-certifications made by Unirope
Have a record of your entire sling inventory sorted by type, location within your plant, past- and next required safety inspection
Move- and record sling locations around your plant
Share inspection- and test certificate records with government auditing bodies
Make better decisions about your sling's performance by analyzing maintenance data
Can be retrofitted to any existing sling or rigging product
The capacities are printed in large legible numbers so users can actually read the tag from about 6 ft away. That in itself is a huge step forward in plant and construction site safety.
---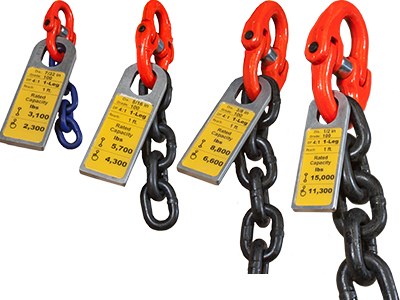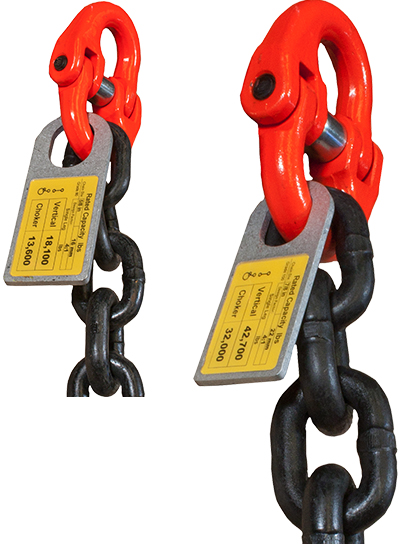 ---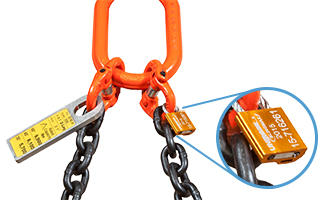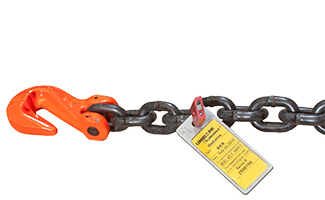 ---

Our tags are made to display the exact sling data.
The capacities can be chosen to show lbs, kgs, or in the case of our large tags we can even show both. We state the applicable Design Factors (DF) as per your Provincial H&S laws. We show either our or YOUR serial numbers plus an additional number YOU can choose. We show the phone number of your Unirope Branch, in which Province it was made, and when it was assembled, certified and proof tested Most importantly we show all capacity ratings and hitches as demanded by ASME B30.9.
We can even include your logo or any other company information. Ask for details as to fit and space restrictions.
These tags are made from 1/4" aluminum. Stainless steel tags available upon request (different design).