UNI-LOC® Flemish Eye Thimble Splice
With HD galv. Thimble and Steel Sleeve for 6-strand wire rope ONLY.
We use Heavy Duty thimbles with all UNI-LOC® wire rope slings. They withstand the working load conditions of the slings but when severely overloaded they will noticeably stretch. Note that you can not feed this thimble through an identical one to make a choker hitch (use Slip-Through Thimbles).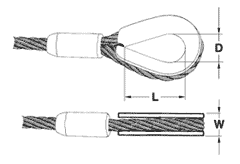 Dimensions (inch) for Flemish Eye Thimble Splice
Nominal 6-strand wire rope diameter
Nom.
D
Nom.
L
Nom.
W
1/4
0.88
1.63
0.41
5/16
1.06
1.88
0.50
3/8
1.13
2.13
0.63
7/16
1.25
2.38
0.72
1/2
1.50
2.75
0.81
9/16
1.50
2.75
0.88
5/8
1.75
3.25
0.97
3/4
2.00
3.75
1.22
7/8
2.25
4.25
1.38
1
2.50
4.50
1.56
1-1/8
2.88
5.13
1.81
1-1/4
3.50
6.50
2.19
1-3/8
3.50
6.50
2.19
1-1/2
3.50
6.25
2.19
1-3/4
4.50
9.00
2.56
2
6.00
12.00
3.09
2-1/4
7.00
14.00
3.63