SlingMax® Rigging Products Overview
For many years Slingmax® has worked hand in hand with riggers to create tools that would increase productivity and safety. Problem solving through the creation of innovative products is an ongoing function at Slingmax® Inc. By reading through the following list of product developments it is hoped a rigger may find something that will help make their work easier and safer while lowering the overall cost to the employer.
TWIN-PATH® SLINGS WITH COVERMAX AND K-SPEC™ CORE YARN
US Patent #4,850,629 CN #1,280,458
TPXC This is our best synthetic sling. It is made with KSpecTM high performance fibers, and it has a bulked nylon outer cover (Covermax) that is very abrasion resistant. These are made in sizes up to and beyond 600,000 lbs. vertical rated capacity. All of these slings include our Check-Fast® inspection system. Twin-Path® slings are repairable. The patented design provides the rigger with redundant protection in the event that one path is cut. These slings have 1% stretch at rated capacity and are made in matched lengths. If your head room is critical then these are the slings for the job. These slings conform to ASME B30.9 Chapter six, Cordage Institute Standard CI 1905, WSTDA-1- HP and US Navy NAVFAC P-307 Section 14. The Twin-Path® design was developed by Slingmax with the help of a team of professional riggers. The safety and inspection features found only in Twin-Path® products were created to overcome shortfalls riggers found in single path roundslings.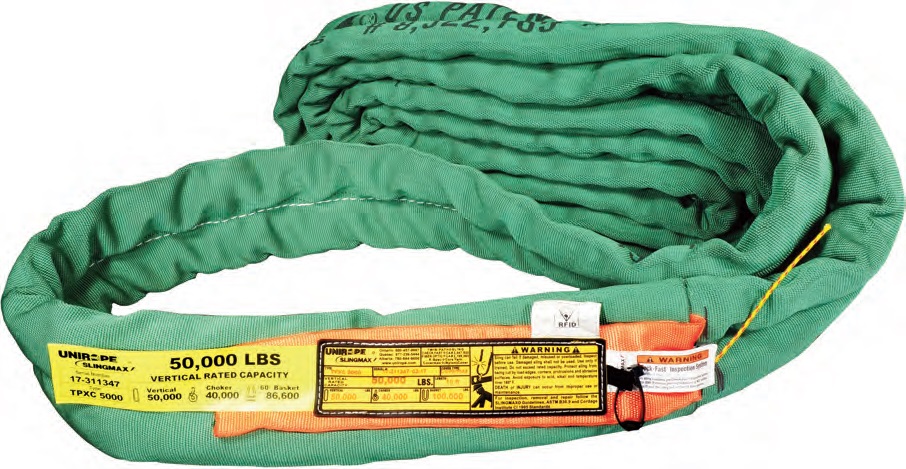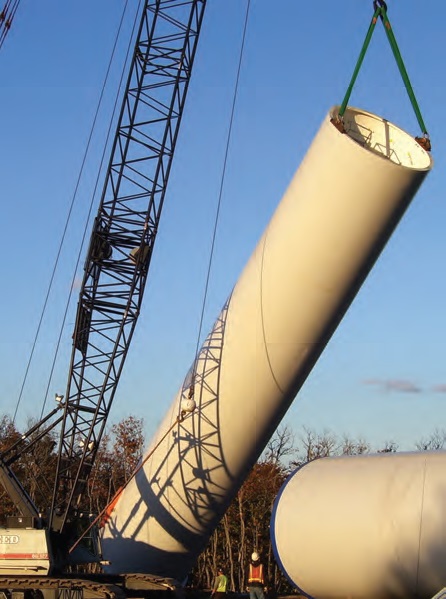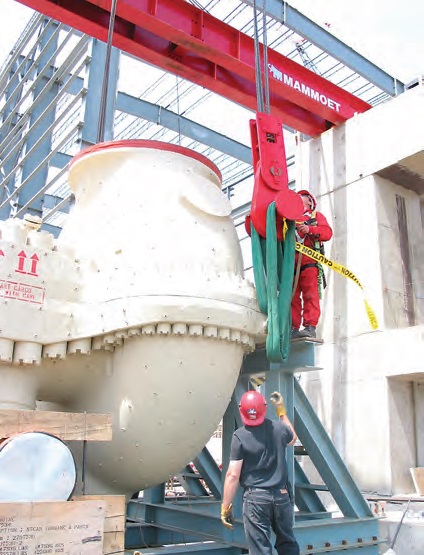 Lifting of industrial blower components
TWIN-PATH® EYE & EYE SYNTHETIC SLING
US Patent #4,850,629 CN #1,280,458
EE This product is made to be an eye and eye sling only. Usually an eye and eye sling is made from a round sling with a sleeve over it to form the eyes at each end. Riggers have told us that they have some applications where they want an eye and eye sling only and this is the one with all of the Twin-Path® features in a strictly eye and eye product. Essentially, this is a regular Twin-Path® sling over which we slide an extra CoverMax® tube to collect the legs. As a side effect this sling now has 2 sets of cover tubes over it.
Call us for sizes and dimensions available.
TWIN-PATH® ADJUSTABLE BRIDLE SLING
US Patent # 5,651,572 Canadian Patent # 7,926,859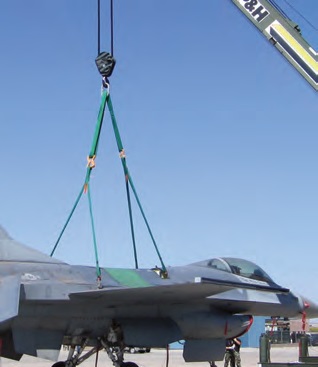 TPXA This tool is an aid to finding the center of gravity. When the load is lifted the ring moves to balance and level the object. We developed this tool in conjunction with riggers in the field for lifting objects with uneven geometric proportions or off center balance points. The Twin-Path® Sling is permanently attached to the ring.
SPARKEATER® SYNTHETIC SLINGS
US Patent #4,850,629 CN #1,280,458
TPSE When you have a hot environment up to 300°F, use a Sparkeater® to lift the load without marring the surface of the lifted piece. Also, when doing stage rigging order this product for the protection it gives from exposure to fire, heat, sparks and pyrotechnics. These slings are made with Aramid high performance core yarns. Available in capacities of 2,000 to 90,000 lbs. When lifting heated steel, wire rope or chain slings might scratch the load causing expensive rework.
CHECK-FAST® INSPECTION SYSTEM
US Patent Pending 60/683,987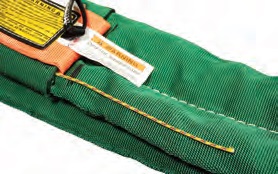 The ✓Fast® System is installed in every TPXC sling and is designed to improve job-site safety. The ✓Fast® Tag and External Warning Indicator (EWI) on a roundsling product provides for a pass/fail inspection of the internal load bearing core yarn. Damage to the core yarn from fiber on fiber abrasion, fatigue, and severe over-load can be detected. If the sling is mistakenly overloaded beyond rated capacity, the EWI is designed to disappear before the sling fails. The inspector no longer has to feel and squeeze around the entire sling to guess if the core has been severely overloaded. This safety system is available for polyester or Twin-Path® and Uni-Path® Slings.
FIBER OPTIC INSPECTION SYSTEM
US Patent #5,651,572 and Patents Pending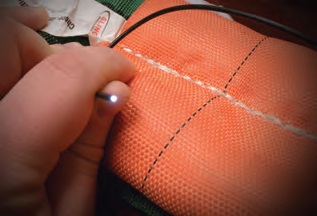 Twin-Path® Slings type TPCX are optionally available with a Fiber Optic Inspection system. The condition of the internal core yarn can be inspected just by checking the continuity of the fiber optic cable. If heat, chemicals, crushing or cutting of the core yarn has occurred any possible resulting damage to the fiber optic cable will destroy its ability to transmit light from one end to the other giving the inspector a reason to remove the sling from service and send it in for repair evaluation. The fiber optic cable will conduct light using natural, overhead or flashlight sources. The inspector simply taps a finger against one end and watches the other end for blinking.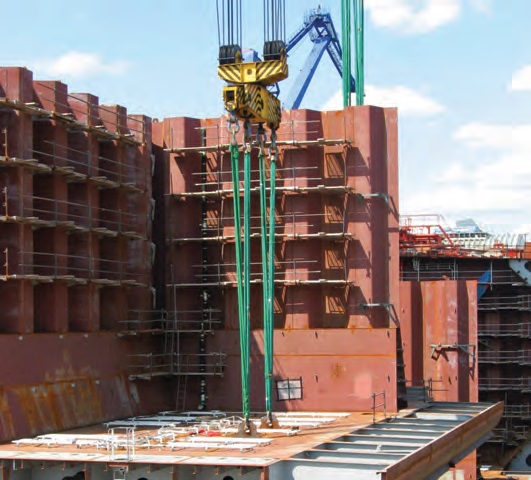 Lifting of a large pre-fabricated ship section.