NEW – Reel Lifter
Caldwell's new Reel Lifter provides a lightweight, easy to use tool that will make upending, lifting, and unreeling cable from your reels fast, easy, and efficient. Four standard sizes are available in capacities from 500 to 11,000 pounds. Heavy duty alloy steel construction is rugged enough for demanding environments and requires little maintenance. Designed and manufactured in the USA to comply with ASME B30.20, BTH-1, Design Category B, Service Class 0 standards.





Lifting Reel.


Upending Reel.


Long Arm Option.

Product Features
Rugged construction to lift and upend reels.
Bearing included for easy rotation to unroll cable.
One crane attachment point for both lifting and upending.
Optional oblong can be added for large crane hooks.
Special long arm option to lift and upend from outer flange.
Bottom arm counterweighted for easy insertion in reel.
Pull lanyard for pivoting bottom arm to lift.
Reel Lifter Video
A light-weight, easy to use tool that makes upending, lifting, and unreeling cable fast, easy, and efficient.
Product Specifications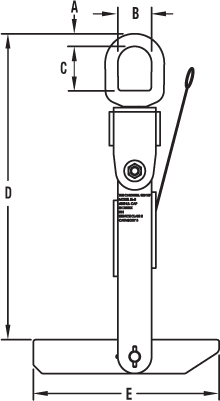 ---
Model RL Specifications
Model numbers shown in

green

are part of our

INSTOCK

program.
Model Number
Rated Capacity (tons)
Arbor Hole (min)
Arbor Hole (max)
Barrel ID (max)
Flange Thickness (max)
A (in)
B (in)
C (in)
D (in)
E (in)
Weight (lbs)
RL-.25
1/4
1.25
2
5.5
2
0.5
1.5
1.92
12.5
5
5
RL-1.5
1-1/2
2
4
10
3
0.5
1.5
1.92
14.44
8.5
8
RL-3
3
3
5
13
4
0.75
2
2.63
17.38
11
17
RL-5.5
5-1/2
4
6
16
5
1
2.5
3.5
22.19
14
25

Options Available:
Long Arm: To prevent reel separation during lifting. Customer must provide outside width of reel.
Oblong: To accommodate larger lifting hooks, refer to Reel Lifter brochure RL-2 for detailed information.
Warning: Ensure the reel can withstand the forces applied by the lifter. Consult your reel supplier.